Man With a Van Hire Liverpool





Any questions? Call us on
0333 123 0240
"Fast booking - decent prices - happy here"
H Howardson
The Best Liverpool Man with a Van Service
Save Money
We compare over 1000 companies to find the best price for your move
Save Time
No need to call round, get prices from your local movers in one easy quote
Secure Online Booking
Secure online booking through paypal or by card, no account needed
Expert Movers
All our registered movers are professional companies, fully insured, with the equipment needed to move your items safely
Only Pay a Deposit Today
All you pay today is a deposit and your move is secured
48 Hour Cancellation
Need to Cancel? No problem - your booking can be cancelled with no charge up to 48 hours before the move date
We Cover The Whole UK
We have registered man and van companies across the whole of the UK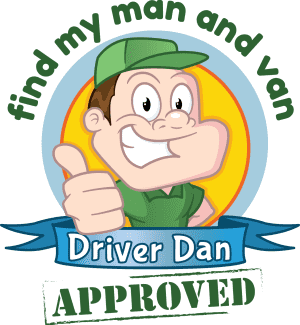 Driver Dans Moving House Tip for Saturday
Use Professional Packing Supplies
Whilst it may be tempting to nip down to the supermarket and purloin a few boxes for your move this may well become a cause for regret when your beloved possessions make a bid for freedom by bursting from their cardboard wrappings during the van load. Pre-used and grocery boxes may not have the stamina for a house move and they certainly won't stack easily. If you have any quantity of stuff more than a few odds and ends you will find the investment in proper, new packing boxes to be well worthwhile as they will protect your goods, stack properly before and after the move and be easier to label. Bubble wrap and strong tape are another couple of items that you will find are best source from a professional packing supplier.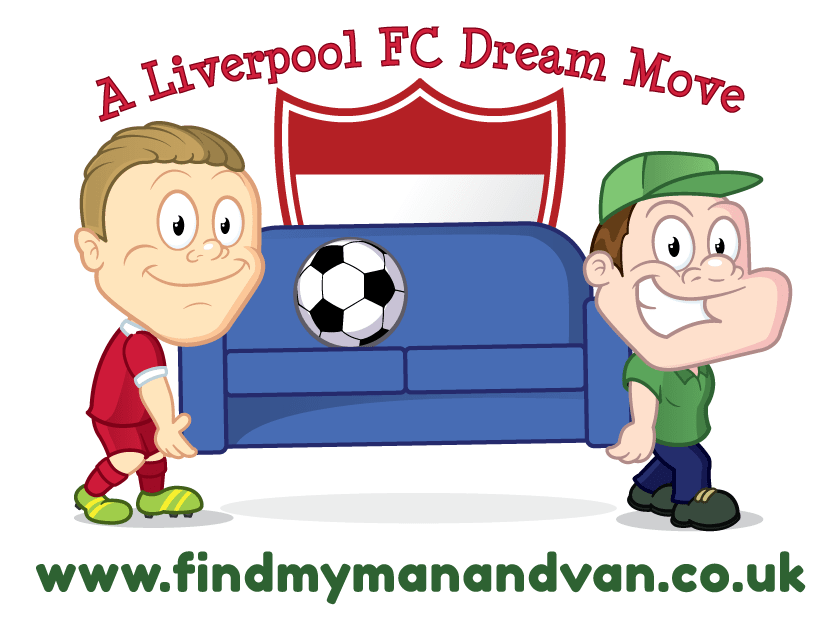 I've never been very organised. Sitting in the house on the day I'm supposed to be moving out and all the boxes are still only half packed. There's my collection of Liverpool FC memorabilia in the corner, including my signed photo of legend Steven Gerard. A god among mere mortals, if ever there was one. There's half-filled boxes and stuff all over the floor.
I hate the idea of moving and I know I should get up and make the effort. Instead, I open a tinny and settle down on the couch to watch Liverpool versus Man City. There's plenty of time left to pack, after all. The match is just about to kick off anyway and it's an important one – win this and we're up to second in the table behind those southern so-and-so's Chelsea.
Karius makes a stunning save in the first few minutes and it looks like the boys are going to take a bit of pressure in the opening skirmishes. Joey Gomez nearly brings down a city player inside the box but the ref (bless his soul) decides it's just outside. Aguero steps up and fires in a curling shot towards the top left corner. Karius stretches and nicks it with his fingertips.
By the twentieth minute, by which I'm on my second beer, the boys are starting to push forward and get their own chance on goal, a shot just wide from James Milner. Things are pretty tense so there's no way I'm going to finish packing right now. The first half ends 0-0 by which time I'm on my third beer and need something to eat. I do make a little effort and pack a few books into a box.
Sheyi Ojo comes on in the middle of the second half which has by then turned into a cagey game of cat and mouse without much in the way of chances. He makes an immediate impact, pulled down for a free kick ten yards outside the box. Milner floats in a cross, Nat Clyne gets on the end of it and punches the ball into the net.
The game gets messy but the boys hang on, despite 6 minutes of extra time that sees Man City shooting wide. I watch a bit of the post-match babble and then drift off. Sleep is always a little better when we've won. It's much better than packing anyway.
A blaring horn wakes me up with a start. Doritos and beer go flying and I jump up. I've got to move out! Taking a look out the window, I'm surprised to see the Liverpool team bus parked outside. Next thing I know, there's a knock at the door.
Opening up, hero and god, Stevie Gerard is stood there in all his glory. "Alright Stan, heard you needed some help."
He's wearing his kit, even the boots. "Alright Stevie, thought you'd retired?"
"Just keeping my hand in Stan. You all packed?"
He looks past me at the mess that's in the living room, Dorito's scattered across the floor and all. "Was watching the match." I explain.
"We'll get it sorted," says Gerard and shouts for the lads to come up. Football studs pound on the driveway and the team file in like they're heading out onto the pitch. Jordan Henderson gives me a high five and Sturridge laughs: "Bit of work to do here, lads."
There are now 10 of Liverpool's finest standing in the living room. It appears that Divock Origi is a dab hand at packing up plates and other kitchen utensils. He and Ben Woodburn set to work like demons, carefully folding plates in paper and loading them into a box. Loris Karius is whistling away and taking down my Liverpool memorabilia. "Great save today," I tell him. "Anyone want a tinny?"
The boys grunt their approval and I head to the fridge and get the rest of my supply of cans. We take a break and talk about past matches, laughing and joking. Nat Clyne talks me through his second half header and Gomez says it's a surprise he got his nut on it after the night out they had during the week.
Beers finished, the team start loading up my stuff onto the Liverpool bus, squeezing boxes in between the seats and shoving my bigger furniture into the storage space below, which seems to be bigger than my house. I lock up the house, push the keys through the letter box and climb on board. Jurgen Klopp is sitting talking tactics with Buvac but takes the time to say hello and ask what I thought about the game. As the bus fires up and starts heading out onto Smithdown Road for the city centre, Gerard does his party piece of balancing a ball on his nose. You can tell he misses playing with the squad.
Apparently, this is one of the biggest buses in the world and despite my entire worldly possessions stacked between the seats, we have more than enough room for a game of keepie uppie. Everything's going fine until Klavan mistimes a kick and it catches me straight on the bonce.
As you might expect after a footie match and a few beers, I wake up. First of all, I look around for my new mates. Then I realise everything is still in a mess and I've been having a snooze. The tele is still on and Klopp is telling a reporter what he thinks of the match. My initial response is to try and get back to sleep and see what the boys are up to. When that fails, I realise I've got to pack up my stuff and move out.
There's no way I'm doing it all on my own. I have a search on the internet and look for a man and van in Liverpool to give me a hand - lo and behold I come across www.findmymanandvan.co.uk and have my Liverpool Man and Van booked in a jiffy. The driver's here in next to no time and we start packing my stuff into his van – it takes a couple of hours but finally I'm in my new home and settling in. The man and van service may not have been the entire Liverpool football team but he does a good job and has a friendly smile. He even looks a little like my mate Stevie Gerard!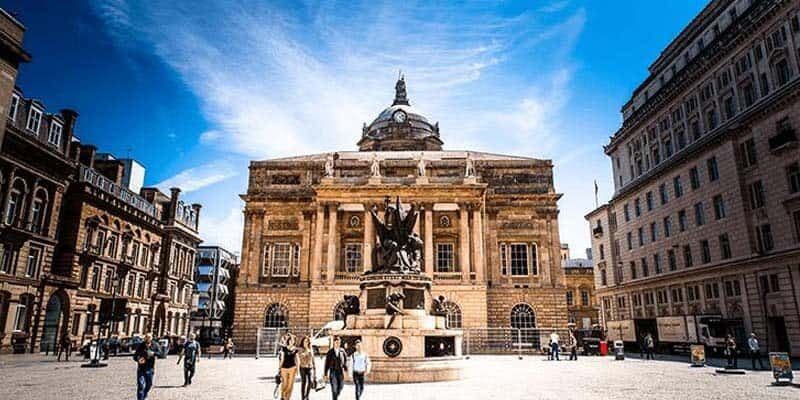 Moving House to Liverpool? What's the City Like?
Liverpool remains a popular spot to consider when you are moving house as the city offers a great balance of rich history, varied job opportunities, a reasonable cost of living and plenty to see and do. The city is also near the coast, the countryside and other regional hotspots such as Manchester. So, is it the place for you?
Where to move using your Man with a Van Liverpool Area Service
Just as there are lots of different styles of housing available in Liverpool, there are also richly diverse areas of the city. They include:
Aigburth - family friend areas with great parks and near the river, good nightlife and shopping areas
Allerton - good schools, public transport links to the city centre and close to the motorways
Cressington Park - lots of large, detached villas from the 19th century, traditional architecture
Lark Lane - popular with younger people, lots of independents shops, restaurants and bars
Tuebrook - popular with students as just need a man and van Liverpool service to move from halls, only a quick walk into city centre
Woolton - southern edge of the city, village-like area with good links to the airport
Whichever of these Liverpool destinations you choose Find My and Van can supply you with the best man and van Liverpool area deals you'll find, so use our instant quote system to book your move today!
If you are looking for the best cheap man and van hire Liverpool services you can find them with us in under 1 minute!
Our free, simple online quote system will ask you a few easy questions to do with your house move and then give you the best man with a van Liverpool area hire prices. You can then choose the one you want and book securely online with a small deposit. You'll find booking your Man and Van Hire in Liverpool quick and easy with us, so make your house move a stress-free experience with Find My Man and Van!
We have dozens of Man with a Van Liverpool area companies partnered with us, all of which are professional house movers, fully insured and properly equipped to get your stuff from A to B safely and at a price you want.
<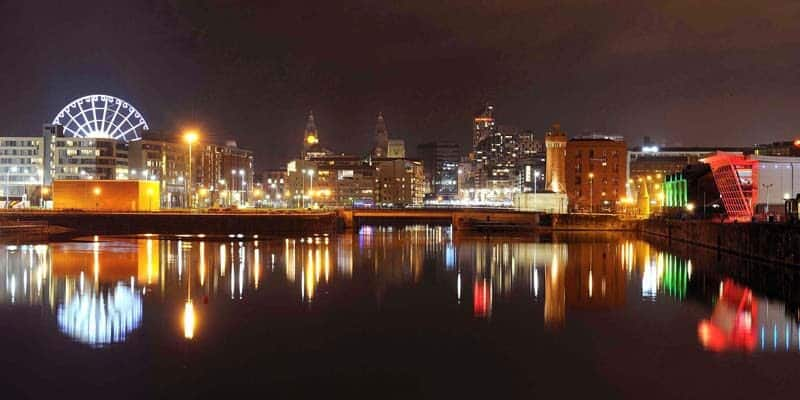 Liverpool Cultural life
There's no doubt that one of the reasons so many people love the city of Liverpool is the diverse cultural life. While The Beatles are the most famous musical exports from the city, there are many other musicians and groups that have come from the area and there are still many places to hear live music.
"Liverpool has always made me brave, choice-wise. It was never a city that criticised anyone for taking a chance." - Author: David Morrissey
Liverpool also has the greatest number of art galleries and museums outside London with the Albert Dock being the largest attraction, housing the Merseyside Maritime Museum and the Tate Liverpool gallery. There is also the Playhouse and the Royal Court among the theatres offering a range of shows to enjoy.
Liverpool Jobs market
The varied nature of the jobs market is another reason why the city is popular. Once dominated by the nautical industry, the landscape of jobs had changed in recent decades and greatly diversified. Currently, public administration, the financial sector and health care are the dominant industries in the city, accounting for around 60% of jobs. Several big international companies are also based there including JP Morgan and Barclays.
The city is also popular for small and medium-sized enterprises of all kinds. This ranges from the 'man with a van Liverpool area' style service through to IT and marketing companies, consultancies and many other business services.
Liverpool in a Sentence
Liverpool remains a busy and varied city that offers something for all tastes from families to young professionals, retired couples and students. The many areas of the city each have their own personality and the jobs market is both healthy and varied.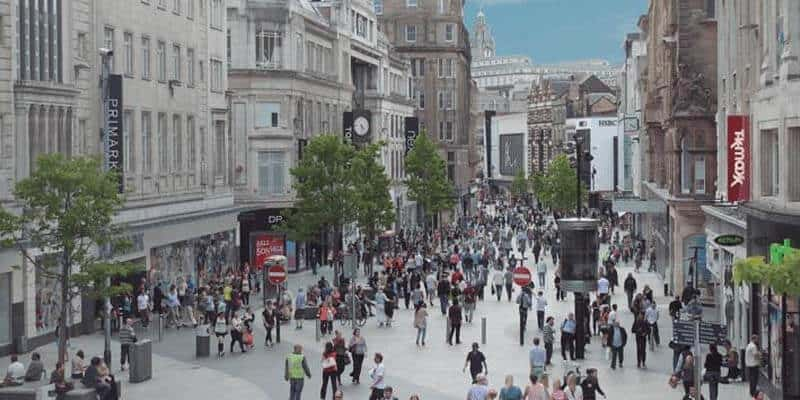 ---
Liverpool Man With A Van - The Cheapest Removal Prices
By Find My Man and Van
Searching for a man and van in Liverpool, Manchester, Leeds or the surrounding areas? Here at https://findmymanandvan.co.uk/man-with-a-van/area/liverpool we have the best man and van companies signed up and ready to move you and your belongings safely and securely.

Read More
---
Moving Reptile Tanks in Liverpool with Find My Man and Van
By Mover Mike
Moving home with pets can be a difficult business and there are plenty of things to do before the removal van arrives.
Read More