A list of some of the other things ...
A list of some of the other things you can do to make sure your house move goes smoothly, from Find My Man and Van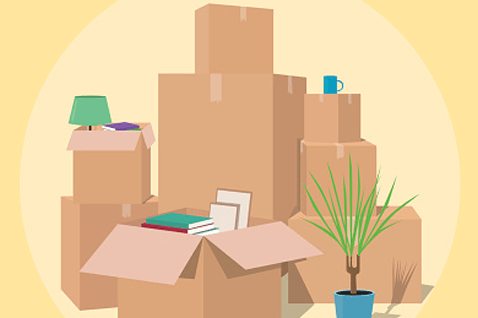 Find My Man and Van
Thursday 30th March, 2017
Before The Moving Day
Tell everyone about your new address
There are many people you need to tell about your brand new home - to help you out we've compiled a handy checklist of people you will need to notify when you move.
Get your mail re-directed
This is a must to prevent identity theft and other mis-uses of personal data. Through the Royal Mail website you can set up the redirection online.
- You won't miss important documents
- You'll help prevent your personal details falling into the wrong hands and becoming a victim of fraud
- You will receive home mover offers

You can redirect your mail to any UK or overseas address for up to 3, 6 or 12 months for each different last name.
Take final Meter readings
Gas, water and electricity readings should all be taken at your current property and the relevant suppliers notified. This will ensure you are not billed for subsequent usage by the new occupiers.
Most utlilities companies have change of address forms on their sites, however if you are not on a fixed term contract this might be a good time to use of of the many price comparison sites out there to find a better deal!
Make sure your new home is insured
When buying a new home it is usual to have buildings insurance as a requirement of the mortgage contract. However even if you are moving to a flat it's always worth protecting your possesions by making sure your man and van driver has enough insurance to cover the full value.
Home insurance can be put in place up to 30 days in advance of your house move, so can be shceduled to start the day you pick up the keys to your new home.
Move your TV licence
You will need to change the address on your TV license if you wish to watch TV at your new address. This can be done online through the TV Licensing web site.
Move your broadband
Most broadband providers will be able to change your address online, failing that you will need to call and inform them of your new address. Whether or not it is possible to move your broadband service it may be time to check out the new deals available in your area through one of the broadband comparison sites out there.
Update your car details
There are two things you will need to do ensure that your car is legally registered at your new address :
Update the address on your driving license - this can be done on the Gov.uk web site
Inform your car insurance company of the bnew address, your premium may change as a result and failure to do so might mean they refuse to pay out on any claim
Inform your bank(s) about your house move
All banks, building socities, credit cards and other financial companies will need to know about your move. This will mean that not only will they be able to contact you about changes or payments but, equally imnportantly, any details they send out will not fall into the wrong hands.
Make sure any regular delivery companies know about your move
Anything you have delivered to your home on a regular basis will need to be re-directed to the new address. This might include magazine or orther subscriptions, DVD rentals, milk/groceries etc.
Apply for a parking permit if required
If your new address has residents only parking restrictions you will want to apply for a permit in advance so that you have somewhere to park once the big day arrives. You can apply for a parking permit through the Gov.uk web site.
Make sure you empty the freezer before moving day
To save throwing out a freezer full of food on the day of the move (it's unlikely to survive the moving experience) make sure that you use up as much as possible beforehand.