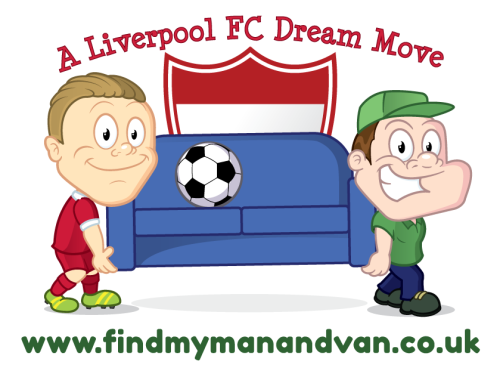 ---
Moving House To Liverpool - A Fun Move
---

Find My Man and Van
Tuesday 5th September, 2017
---
I've never been very organised. Sitting in the house on the day I'm supposed to be moving out and all the boxes are still only half packed. There's my collection of Liverpool FC memorabilia in the corner, including my signed photo of legend Steven Gerard. A god among mere mortals, if ever there was one. There's half-filled boxes and stuff all over the floor.
I hate the idea of moving and I know I should get up and make the effort. Instead, I open a tinny and settle down on the couch to watch Liverpool versus Man City. There's plenty of time left to pack, after all. The match is just about to kick off anyway and it's an important one - win this and we're up to second in the table behind those southern so-and-so's Chelsea.
Karius makes a stunning save in the first few minutes and it looks like the boys are going to take a bit of pressure in the opening skirmishes. Joey Gomez nearly brings down a city player inside the box but the ref (bless his soul) decides it's just outside. Aguero steps up and fires in a curling shot towards the top left corner. Karius stretches and nicks it with his fingertips.
By the twentieth minute, by which I'm on my second beer, the boys are starting to push forward and get their own chance on goal, a shot just wide from James Milner. Things are pretty tense so there's no way I'm going to finish packing right now. The first half ends 0-0 by which time I'm on my third beer and need something to eat. I do make a little effort and pack a few books into a box.
Sheyi Ojo comes on in the middle of the second half which has by then turned into a cagey game of cat and mouse without much in the way of chances. He makes an immediate impact, pulled down for a free kick ten yards outside the box. Milner floats in a cross, Nat Clyne gets on the end of it and punches the ball into the net.
The game gets messy but the boys hang on, despite 6 minutes of extra time that sees Man City shooting wide. I watch a bit of the post-match babble and then drift off. Sleep is always a little better when we've won. It's much better than packing anyway.
A blaring horn wakes me up with a start. Doritos and beer go flying and I jump up. I've got to move out! Taking a look out the window, I'm surprised to see the Liverpool team bus parked outside. Next thing I know, there's a knock at the door.
Opening up, hero and god, Stevie Gerard is stood there in all his glory. "Alright Stan, heard you needed some help."
He's wearing his kit, even the boots. "Alright Stevie, thought you'd retired'"
"Just keeping my hand in Stan. You all packed'"
He looks past me at the mess that's in the living room, Dorito's scattered across the floor and all. "Was watching the match." I explain.
"We'll get it sorted," says Gerard and shouts for the lads to come up. Football studs pound on the driveway and the team file in like they're heading out onto the pitch. Jordan Henderson gives me a high five and Sturridge laughs: "Bit of work to do here, lads."
There are now 10 of Liverpool's finest standing in the living room. It appears that Divock Origi is a dab hand at packing up plates and other kitchen utensils. He and Ben Woodburn set to work like demons, carefully folding plates in paper and loading them into a box. Loris Karius is whistling away and taking down my Liverpool memorabilia. "Great save today," I tell him. "Anyone want a tinny'"
The boys grunt their approval and I head to the fridge and get the rest of my supply of cans. We take a break and talk about past matches, laughing and joking. Nat Clyne talks me through his second half header and Gomez says it's a surprise he got his nut on it after the night out they had during the week.
Beers finished, the team start loading up my stuff onto the Liverpool bus, squeezing boxes in between the seats and shoving my bigger furniture into the storage space below, which seems to be bigger than my house. I lock up the house, push the keys through the letter box and climb on board. Jurgen Klopp is sitting talking tactics with Buvac but takes the time to say hello and ask what I thought about the game. As the bus fires up and starts heading out onto Smithdown Road for the city centre, Gerard does his party piece of balancing a ball on his nose. You can tell he misses playing with the squad.
Apparently, this is one of the biggest buses in the world and despite my entire worldly possessions stacked between the seats, we have more than enough room for a game of keepie uppie. Everything's going fine until Klavan mistimes a kick and it catches me straight on the bonce.
As you might expect after a footie match and a few beers, I wake up. First of all, I look around for my new mates. Then I realise everything is still in a mess and I've been having a snooze. The tele is still on and Klopp is telling a reporter what he thinks of the match. My initial response is to try and get back to sleep and see what the boys are up to. When that fails, I realise I've got to pack up my stuff and move out.
There's no way I'm doing it all on my own. I have a search on the internet and look for a man and van in Liverpool to give me a hand - lo and behold I come across www.findmymanandvan.co.uk and have my Liverpool Man and Van booked in a jiffy. The driver's here in next to no time and we start packing my stuff into his van - it takes a couple of hours but finally I'm in my new home and settling in. The man and van service may not have been the entire Liverpool football team but he does a good job and has a friendly smile. He even looks a little like my mate Stevie Gerard!